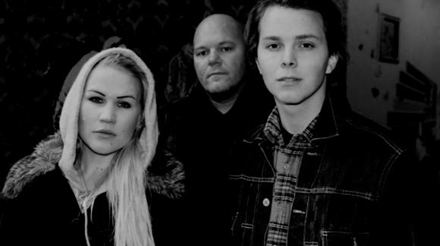 Ugagn: Sigrid Berg, Erik Sollid, Bård Bjørke
Ugagn was established in 2010 and hence is one of the newest contributors to Norwegian folk music. Sigrid Berg, daughter of star folk music singer Kirsten Bråten Berg, fronts this trio that finds most of its repertoire in Setesdal, consequently following much of the legacy from her mother.
-We work with lyrics from Setesdal but build our own frame around it including elements from jazz and flamenco, the musicians says.
Ugagn also feature Hardanger fiddler Erik Sollid, a musician famous for his ability to convey traditional and modern expressions equally, and well-known from Valkyrien Allstars. Guitarist Bård Bjørke brings in components from both jazz and flamenco, giving the trio's sound an innovative touch.
The trio is expected to release their debut album in the near future, so when it is launched you can brag about that you already heard Ugagn at Folkelarm 2011!

Sigrid Bråten Berg | vocals
Erik Sollid | hardanger fiddle
Bård Bjørke | guitar
You may read all about Folkelarm 2011, and the many Nordic talents to be experienced there, by continueing to this English language page.