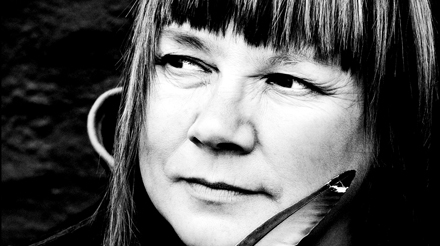 Mari Boine Foto - Terje Krogh
-Through my music the Sámi culture and language has been made visible and accessible for people around the world for 25 years. Now the time has come for me to do something else, Boine says.
2011 now sees the release of Áiggi Askkis /An introduktion To, a two-disc compilation that sums up a career hardly any other Norwegian is able to match. This does not at all mark an end to her musical life but is rather a transition to a new era. She is currently working on a new album with lyrics in English:
-This is clearly quite controversial and I am preparing for a choir of opponents. Anyway, this is something I do to challenge myself and is just a different way to make music. It does not indicate that I leave the Sámi language everlastingly.
Transcending invisible musical boundaries
Mari Boine is a Norwegian artist without equal and a strong symbol of the Sámi indigenous people. She was born and raised in the small Sámi village of Gámehisnjárga. Gámehisnjárga is Sámi for 'The border' and defines the remarkable music she has created and continues to create, forever transcending invisible musical boundaries.
Mari Boine relishes her independence and does so in her native Sámi tongue, but that does not confine her to being a traditional Sámi artist, for that, her voice is far too strong and her creativity far too fierce, for Mari Boine is, the one and only, Mari Boine.
Her interpretation of the Sámi musical heritage has won her a devoted international audience. Across the world she has come to represent the essence of the union between very old musical heritage -with a universal depth of message and emotion- and progressive aspects of today's music. With Boine the ancient tradition and the timeless mystery of the Joik –the Sámi vocal tradition- is given new life and new audiences. Her music incorporates many different genres and she makes use of innovative sounds and modern technologies.
The story behind the music
In Gámehisnjárga near the Finish border, in an environment of deeply pious religious rules, where renouncing music and dance were absolutes, rebellion was pending. Boine discovered her first heroine, Doris Day listening to the pirate radio station; Radio Luxembourg, broadcasting from a ship in the North Sea. At the age of ten she was introduced to Otis Redding through her music teacher Einar Eriksen. The effect music had on Mari was evident. Her teacher tried to convince Mari's father to let her attend school plays and concerts, aiming to make him aware of her obvious talent. Her father responded that it was "out of the question!" But the devil hasn't got all the best music. The hymns and the psalms were alive in the chapel. At the back of the room the ladies congregated, singing and swaying to the music. While some of the congregation thought this behaviour unseemly, this was the only part of the service that attracted Mari. On some unconscious level the swaying to the music gave her a sense of something forgotten, something deep, something shamanistic. There was a political awakening in Sámi in the 1970's. At the time Mari would take no part in it, on the contrary she was ashamed of her heritage. Even to her first born, Mari would only communicate in Norwegian. When she left home for college to study teaching she brought with her a forbidden guitar. At college she discovered there were no books on the history of her people and a growing rage boiled inside of her. She funnelled the steam through the only vent she knew, through music. The music she then created and performed was explosive, her intensity was beyond belief. On her first album "Jaskatvuođa Maŋŋá (After the Silence)" Mari translates John Lennon's "Working Class Hero" to Sámi. The album refers to her own silence and is a thunderous rebellion from her previously silent self. Mari Boine finally found the necessary tool to express the rage bottled up inside. Mari Boine makes a big splash and agrees to compose music for a theatrical performance for the newly founded National Theatre of the Sami People. There she hooks up with the young free spirited rock guitarist Roger Ludvigsen and together they embark on a long strange musical journey.

Gula Gula - the breakthrough
In 1989 Mari Boine releases Gula Gula which is the music commissioned for the Sami Theatre. Gula Gula - hear the voices of the tribal mothers has an obvious feminist message. Mari embarks on a tour with the Norwegian saxophone player Jan Garbarek and the world; most notably Peter Gabriel takes notice. Gabriel obtains the rights to release Gula Gula on his Real World label. Her international sales skyrocket and Gula Gula goes on to win a Norwegian Grammy in 1989. The title track becomes an anthem for the Sámi and Mari Boine later receives the Sámi council's honourable prize of 1992. Mari Boine was not happy with Gabriel's Real World label, and releases her next album, Goaskinviellja - Eagle brother (1993) on her own Lean label. The album is another step forward and together with Roger Ludvigsen they dare each other to journey into new musical territory. They also tour extensively world wide with an excellent band. Gâvcci Jahkejuogu - Eight seasons (2002) finds Mari Boine at a crossroad. She dismantles her band, and hooks up with ground breaking Norwegian jazz pianist and producer Bugge Wesseltoft. Inspired by the emerging and highly potent Norwegian techno/house scene Mari once again looks to transcend borders.

Nordic Music Award
Mari has gained the confidence in her art to let go and includes both her new band and Bugge in the creative process. The music materializes in an electronic, cool, almost chic but still unmistakably Mari Boine album. The album is released to rave reviews and she later invites several techno/house artists to do brilliant reworks of her songs. In 2003 she receives the highly prestigious Nordic Music Award by the Nordic Council. Mari spends the prize money on a traditional long riverboat vowing that "no journalist will ever enter it!" reflecting as much as anything her growing celebrity and need of refuge. In 2006 Mari Boine releases the beautiful Idjagiedas returning with elements of her trademark serene organic sound - almost like a consolidation before entering new territories. With clues to what is coming next, she flavours Idjagiedas with the African instruments gimbre, kora and the mbira. On her 2009 album Čuovgga Áirras/Sterna Paradisea Mari Boine goes to South Africa. Collaborating with amazing husky voiced South African singers, Mari's pristine clarity creates the perfect contrast on some of her best songs ever. Many of the almost hymn like songs draw glimpses of her past while Mari Boine forever looking forward continues to fascinate and prepares her listeners to journey onward along her endless border.

Following a new pathway
With the 2011 compilation release Boine looks back on a career that hold more that most musicians dear to dream of. She started off as a rebellious young musician opposing years of oppression of the Sámi people. Now she is more focused on the beauty in music and speaking the Sami cause is not her first priority. Presenting music in English is one way of showing that her music is more than politics.