www.folkmusic.no
Music Export Norway:
Summing up Womex 2010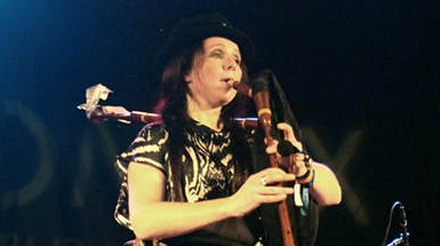 Music Export Norway and the Norwegian delegates took part in a Nordic collaboration at Womex 2010.
30 delegates and 2 artists from 16 different companies attended the Norwegian stand area at Womex 2010, which was located in the heat of the action, right in the middle of the fair area, surrounded by a world of music.

Everything from festivals to record companies and artists were connected to the Norwegian stand, and the participants generated a great deal of interest from delegates from all over the world.

Anne Moberg from Rikskonsertene, an experienced Womex participant, seemed satisfied with this year's event;

- Once again, Womex was a big kick for me! It is an excellent occasion for networking, meeting new relations and maintaining old acquaintances. I have been in and out of Womex since the start in 1993, and it has grown over time. Now, Womex is an important meeting place for people who are interested and involved in international music collaboration, with folk music and world music in focus. I think Music Export Norway was a great host that attracted a lot of positive attention to the Norwegian stand. It means a lot to the norwegian delegates, says Moberg.

Here are some observations from a few of the International delegates who visited the stand:

- For me you had a good place, just in the centre. The way it works is great, because there is always somebody at your different stands who can direct us to the precise person we want to meet. I got nearly all the answers to my questions - Frédérique Dawans, FRAGANS

- Right in the middle of the fair was where I found the Nordic area at Womex, and my impression was that it was cleverly situated, well structured and presented and the green touch of the grass forming the focal point of the jointly shared area made it an unmissable reference point for the rest of the conference delegates. In fact, if I had to meet somebody I used the Nordic area as a point of reference, and sometimes it was just easier to meet people right at the green area. - Tom Sherlock, Tom Sherlock Management

Nordic Club

After the success og the 2009 Nordic Club, the concept was back in 2010. Like last year, the stage featured artists from Denmark, Norway, Sweden, Finland and Iceland, running all three showcase nights. Elisabeth Vatn – Piper on the Roof Ensemble and SLAGR represented Norway. Both showcases attracted a big crowd, and the demand for the artists was well noticed at the Norwegian stand, with a lot of international delegates asking for both artists.
Homepage of Music Export Norway