www.folkmusic.no
WOMEX
Giving Nordic bagpipe traditions a contemporary makeover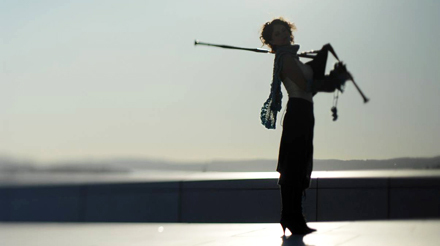 Foto | Werner Anderson
Charismatic bag-piper Elisabeth Vatn brought with her the applauded Piper on the Roof ensemble for a much-anticipated showcase at Womex in Copenhagen last week. Here you can read an interview with the profiled musician by Tomas Lauvland Pettersen at MIC.
Piper on the Roof is bag-piper Elisabeth Vatn's vibrant and lauded ensemble which album-debuted to critical acclaim earlier this year. Originally a classically trained pianist, Vatn began her bag-pipe career during a stay in Macedonia in 1993. Later she would learn of the existence of a Nordic/Swedish variant of the instrument and Vatn is currently one of the instrument's few practitioners – having put down a considerable effort into the work of preserving the Scandinavian bag-pipe tradition and finding a contemporary context for the distinct instrument's rich timbre. As a performer, Vatn has been active across the genre spectrum, performing in classical settings, with improv ensembles, in pop/rock groups as well as a wide variety of traditional folk music outfits.

MIC reached Vatn in mid-October during a hectic tour of Arctic Norway – the previous month was spent touring in a much warmer climate: - I'm just back from a really positive Japan tour, says Vatn. – It was pretty special to meet such a devoted and enthusiastic audience – we even met some hard-core Hardanger fiddle aficionados!

Having built up a considerable and loyal domestic audience, Vatn has gradually shifted her focus to the international stage: - I feel that our international campaign is well underway. Over the last year we've toured Austria, Germany, Portugal and Japan and we have concrete plans to expand into new territories over the next few months. Naturally, Womex plays a major role in this plan and we're all primed and ready to use the opportunity to showcase ourselves to best effect.

The Womex edition of Elisabeth Vatn's Piper on the Roof Ensemble consists of bass player Mattis Kleppen, drummer Harald Skullerud and multi-instrumentalist Anders Røine. When asked to give an elevator pitch to promote her own Nordic Club night showcase, Vatn cites the Womex website's promo text as a fitting description of the vibrant collective: 'Norwegian piper gives Nordic bagpipe traditions a contemporary makeover.'

Says Vatn on the bag pipe's status as a contemporary folk instrument: - The international bag-pipe scene is surprisingly large and burgeoning with a wide range of various arenas and festivals that feature the instrument. However, on the Scandinavian scene there are just a handful of us, and I'm one of the very few to bring the instrument into a contemporary setting. The Swedish bag-pipe scene is perhaps a bit more focused on the historical aspect of the instrument and they excel in recreating historical instruments and play compositions linked to the Medieval origins of the tradition. I've never really focused on the historical aspect of bag-pipe playing; I've been much more into exploring the vast potential of the instrument with an idiomatic approach.

Vatn has chosen to focus on a mix of her own compositions complemented with a carefully selected array of traditional tunes: - Since the Norwegian bag-pipe tradition has been more or less broken; there is no available repertoire that can be rooted in a national tradition. This has naturally led me to focus on my own compositions and traditionals that are not necessarily linked to my instrument. The repertoire that we play may have belonged to other arenas and performance styles but I feel that we can rejuvenate those tunes by arranging them for an instrument that is as distinct and multi-faceted as the bag-pipe. Since there are so few out there that master the instrument, we come across as pretty unique no matter what we play.

Following the successful release of the first Piper on the Roof album and consequent tours, Vatn and her colleagues have laid the foundation for a blossoming career on the domestic as well as international scene. Vatn is not one to rest on her laurels though, ambitious plans are being laid for the remainder of the year as well as 2011: - Next year, I'll be focusing on my new album that's due in the spring, says Vatn. We'll follow up on the release with several tours abroad with the Piper on the Roof ensemble. In between these tours I'll have to find time to focus on a long range of other projects that are coming up; a commission for a work to be premiered and performed in Norway's unique stave churches, a children's record, lots and lots of solo performances as well as some new collaborations with international colleagues that are yet to be made official.

With acts such as Majorstuen and Valkyrien Allstars paving the way, Norwegian folk music has come a long way on the international since the scene's first exploratory forays abroad nearly two decades ago: - I feel fortunate to be amid this resurgence of interest for Norwegian folk music. It's really inspiring to be performing on an instrument that's not that common on the Nordic scene and being welcomed with open arms by audiences across the world. As a member of Chateau Neuf Spelemannslag, I took part in some of the first international tours that Norwegian folk bands undertook back in the early 90s. The change that the scene has undergone in the following two decades is nothing short of astounding. The business side of things have been professionalized and the artists take on international ambitions at a much earlier stage than before. I want to contribute to this 'Norwegian Wave' of folk music and continue to explore the bag pipe in a contemporary setting; I've been around for many years and I'm not planning on quitting yet!
Elisabeth Vatn on Myspace: