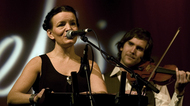 Majorstuen|Photo: Eivind Kaasin
Concerts
The central point of the festival was the Glasgow Royal Concert Hall, where performances took place in every available space, from workshops and receptions in the foyers to performances by top-notch artists in the Main Auditorium and Strathclyde Suite. In addition the festival fills up more than 14 venues around the city, all situated right in the heart of the city centre.
Unni Boksasp ensemble brought traditional songs and fiddle tunes from the West Coast of Norway to the Tron Theatre Friday night, a medium sized venue that for two decades has gained a reputation for the vitality of its musical, comedy and contemporary art shows. Also performing on Friday, Synnøve S. Bjørset hauled listeners to St. Andrew's in the Square, a beautiful 18th century church that provides an auditorium awash with natural light and magnificent solid oak floors; perfect surroundings for a solo Hardanger fiddle artist with a tasteful melodious collection of tunes.
Saturday night saw three Norwegian acts at different venues. The five-headed fiddlers band Majorstuen had their concert at the Stathclyde Suite and were received by an enthusiastic audience and by vast applause. Likewise Valkyrien Allstars managed to stir up the huge crowd at the ABC, a distinctive Art Deco building that once housed Scotland's first cinema with an overall capacity of 1600. Not as noisy, but by fare as impressive, the duo Skaidi introduced the audience to their unique musical energy; a bizarre mix of yoik and jazz.
Sunday's closing concert featured Gjermund Larsen Trio at the Old fruitmarket, one of Glasgow's most impressive concert hubs. In this elegant and refined venue that has a carnival like atmosphere Gjermund Larsen Trio pulled a close to the Spotlight Norway program in front of 1500 spectator.

Most concerts where filled to the edge at every venue and the rumors of excellent Norwegian music swiftly spread amongst the attendees.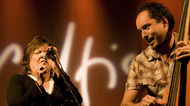 Skaidi|Photo: Eivind Kaasin
Festival Club
In addition to the major concerts, all Norwegian artists also appeared at the Festival Club. With inspired line-ups that are never revealed before the night – the Festival Club draws musicians, delegates and fans for a late-night jam session. The Festival Club takes up residence in the Glasgow Arts School, just a jump from the Concert Hall, and no one really wants to leave this place before the music session ends sometime around 4 in the morning.
Showcase Scotland
Showcase Scotland is a delegate based event which takes place in Glasgow during Celtic Connections. Delegates are issued with a pass that gains them access to festival shows which feature either Scottish artists, or artists from the international partnering nation.
Norway is pleased to have been the international partner in 2010. This year saw the presence of 197 delegates from 19 countries making Showcase Scotland truly global, offering a springboard for many musicians into the international marketplace and a chance to expand the artists' international profiles.