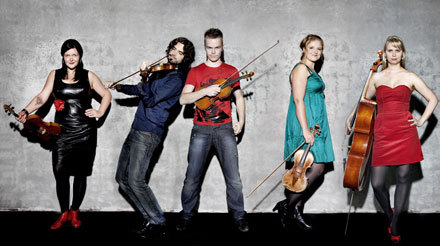 Majorstuen|Photo: Geir Dokken
With a much-anticipated album scheduled for release during Showcase Scotland, Majorstuen, one of the Norwegian folk music scene's most active outfits, gears up for a hectic season on the international circuit.

The name Majorstuen has come to signify the revival of Norwegian traditional music and its newly-won popular image as a hugely dynamic and forward-looking musical expression. Already with its eponymous 2003 debut album this five-strong fiddle ensemble made it clear that things were changing in the sphere of Norwegian folk. Words like "explosive" and "groundbreaking" had not previously been associated with pure fiddle music, but that was before Majorstuen came along.

Majorstuen's much anticipated new album, titled Skir (translation: shimmering), will be officially launched at the band's appearance at Showcase Scotland. The album, which follows up on the domestically as well as internationally successful albums Jorun Jogga and Juledrøm, features the ensemble's trademark self-described "Hardcore-fiddle" sound, a mix of traditional and original compositions, as well as unorthodox arrangements.

MIC reached Majorstuen's Tove Persdøtter Dalbakk during a break in the hectic pre-album launch period. Talking about the upcoming album, Dalbakk describes the outing as a matured, coherent and distinct product, saying:
- Our new album features primarily original compositions but also a couple of traditionals that have been part of our repertoire for years. Even if we've grown and developed as arrangers and composers, the new album will not necessarily represent a departure from our trademark sound. I feel that we've found our form of expression now; we feel confident in what we're doing and we can allow ourselves to relax a bit, let our hair down a little and do what we really want to do artistically.

Trained at the Norwegian State Academy of Music, all Majorstuen members are highly-skilled as performers on their respective instruments. But in addition to their performance prowess, the Majorstuen members take turns penning the ensemble's repertoire. Says Dalbakk on the outfit's compositional processes
- Each band member contributes equally to the composition process; over time, we've developed our own individual thumbprint as composers. We seem to blend well as performers, composers and individuals and I feel that this is what produces a sound that's coherent and individual. Some of us are more energetic and extrovert; Andreas [Ljones], for example, is a veritable Energizer-bunny, while other band members are calmer and more into the reflective and lyrical stuff. Jokingly, Dalbakk refers to this as the "boyband-approach" – each member has his or her own easily-defined role, both in terms of stage presence and composition.

Dalbakk also reveals that the ensemble is moving into a new phase as far as live shows are concerned, explaining: - We've actually enlisted the help of a choreographer who will help us develop our stage presence. The idea is to retain each band member's on-stage personality and refine it and make it clearer. We're not talking about actual dance moves here; it's more of a subtle refinement of our current set-up and a wee bit more lively presence.

In 2010 audiences in Canada, France and the U.K. will be able to take in Majorstuen's new choreographed stage show as the ensemble heads out on tours in said territories. Judging by the numerous glowing reviews bestowed upon Majorstuen in later years, it would appear that the ensemble's secret is the way the six fiddlers have refined their widely-different musical dialects into a single characteristic and playful language. Many will also argue that just as important is the fact that they have allowed this folk idiom to be influenced and energized by urban and eclectic musical impulses, making their pure fiddle music zeitgeisty and fresh. They are conservative about sound and instrumental line-up, but all the more open and playful when it comes to ways of reinterpreting and reinvigorating the fiddle heritage.

The result is music which is deeply-rooted in tradition and distinctively Norwegian, and at the same time it is something new. Majorstuen breaks down old barriers between rural and urban concepts by presenting fiery, energetic and clever music that seems just as appropriate in a city club as on a village stage. More than anything, it is the live spectacle that this band puts on that has earned a reputation.

The members of Majorstuen are still young and they continue to expand their musical horizons in all kinds of other projects. In this way these musicians have contributed to a new dynamic professionalism among traditional musicians: Highly-educated, musically versatile, involved in diverse musical projects and constantly travelling; Majorstuen's fiddlers represent the new folk musicians of the 21st century.