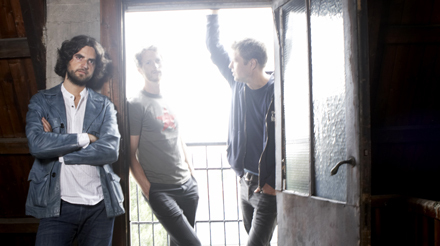 Gjermund Larsen Trio|Photo: Grappa
Gjermund Larsen enjoys a position as one of the most respected and active performers and composers on the contemporary Norwegian folk music scene.

The Norwegian State Academy-educated fiddler and composer is a member of ensembles Majorstuen, Frigg, Brødrene Larsen, the Ragnhild Furebotten Trio and the Christian Wallumrød Ensemble. MIC talked to a busy Larsen in late December last year:
- Last autumn was really hectic; I've toured with my own trio as well as with Majorstuen and jazz outfit the Christian Wallumrød Ensemble," Larsen says.
- I'm busy as ever composing new music, both for my own use as well as for commissions from festivals and ensembles. It's hectic, but I won't have it any other way; I like to roam wide and far, covering lots of styles, genres and settings as a composer, as well as a fiddler."

Larsen's proper debut as a composer came in the form of the work 'Brytningstid', which was commissioned by the Telemark Festival two years ago. The majority of the work draws inspiration from and is devoted to new, contemporary and original folk music from the local dance music traditions of the Verdal area in the Trøndelag region. Double bassist Sondre Meisfjord and pianist/organist Andreas Utnem were featured at the premiere of Brytningstid and the three have continued the fruitful collaboration to date. The pieces featured in Brytningstid still constitute the base of the trio's repertoire, a repertoire that has continued to grow in magnitude and diversity during the last two years. The three band members represent a wide range of genres ranging from classical and contemporary to jazz and pop, as well as traditional folk music – a diverse background that results in a highly-aesthetic and rewarding sonic landscape.

Says Larsen on his trio's much-anticipated "Spotlight on Norway" showcase slot:
- My main motivation for performing at Showcase Scotland/ Celtic Connections is to reach out, gain new contacts and ultimately generate more appearances for my trio abroad. Last autumn we went on our first international tour as part of the "Norwegian Tapas" campaign that featured gigs together with Jorun Kvernberg and Bruvoll/Halvorsen in Belgium and Luxembourg. The audience feedback was fantastic; we sold out all of our albums and merchandise in record time and received offers for return visits. It was quite exiting to test out our repertoire, which is solidly rooted in Norwegian culture and folkore, for an audience that had no knowledge of or relation to the musical culture on display. We're really looking forward to recreating that experience in Scotland come January. He continues, saying:
- The interest for Scandinavian folk music in general seems to have picked up lately. Particularly the French and German audiences seem really receptive, but we've also received growing feedback from the U.K. scene, as well. The whole folk music scene in Norway has gone through a major transformation over the last decade; there's a new generation of Conservatory-trained performers, more professional artist managers, stronger organizations, more funding and a growing domestic audience. Currently, it's a really positive spirit on the folk music circuit with lots of drive and a bunch of people intent on establishing themselves on the international stage.

Following the successful release of its debut album Ankomst in 2008 (which won a Spellemann Award, the Norwegian equivalent to the Grammy), the Gjermund Larsen Trio returns with its sophomore album in 2010. Larson elaborates, saying:
- We're currently working on the follow-up to the debut album which will see its release this spring. I've composed the main bulk of the repertoire, which will follow in the same vein as the material on Ankomst. The musical landscape is much the same; lyrical and melodic pieces – perhaps a bit more solemn and quiet than the tunes on our debut. I've also been exploring some new musical territories; baroque has become something of a fascination for me lately. I've also worked with music for children and I've received a commission for a work to be performed at a major domestic festival later this year. It's a real challenge to balance the role of the composer with the role of the performer, but I feel that I'm currently mastering the juggling act – it's really rewarding.

Critics call Larsen a uniquely poetic folk musician distinguished by the gentle warmth of his tone, the natural lure of his melodies and the broad range of his poetic sensibility, which range from catchy dance tunes to tranquil meditations. Even amidst the brilliant revival of Norwegian folk music, Larsen and his Trio stand out; their repertoire of songs so rich and diverse in emotion and so beautiful and well tempered in execution that the whole horizon of Norwegian folk music seems to have been broadened.
The article is produced by Music Information Centre Norway