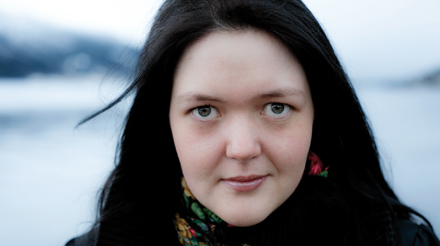 Synnøve S. Bjørset - Foto: Vegard Fimland
Solo Hardanger fiddle – traditional Norwegian folk music doesn't get any purer than this. Synnøve S. Bjørset is one of the style's most vital voices.
Mention traditional Norwegian folk music and it's very likely that the first instrument many associate with this genre is the Hardanger fiddle. In the hands of a master, it lends a unique tonal character to the folk tradition. And a master is just what Synnøve Bjørset is. Her technical skills and her dynamic control, coupled with an innovative sense of expression, is indication that the future of traditional Norwegian folk music is in good hands, indeed.

Bjørset is not confined to performing solely for a domestic audience - over the last eight years she has toured ex¬tensively around the world. Says Bjørset:
- 2009 was really positive for me – I ended up with more activity than I had planned for. I've been touring as a solo performer as well as with Majorstuen, and in hindsight, France and Canada stand out as real 2009 tour highlights.

Says Bjørset on working on a repertoire and with a performance style that has a clear framework rooted in a rich musical tradition:
- I feel comfortable working within the frames of traditional solo Hardanger fiddle music. In many ways, working with traditional repertoire is a matter of preparation; making the tunes available for new listeners. I feel that I have a role in which I am carefully pointing at the music, making the listener aware of the subtle nuances and variations of the tunes. In a broader picture, I feel that I play an important role as a conveyor of age old stories. In many ways, my job is to ease the interpretation process for new listeners; I try to give them some knowledge to go along with, I tell them the underlying rich and exciting themes and stories that accompany the tunes.

Says Bjørset on the appeal of the Hardanger fiddle:
- What often triggers the interest of new listeners is the unique timbre of the fiddle. The resonating strings in the fiddle's body create a unique sonic palette that sounds like nothing else out there. Once you break some of the genre's codes, learn what a 'slått' (dance tune, Ed. note) is or identify some of the repertoire's main tunes such as Fanitullen for example, you'll see a whole new universe opening up. Once you learn to appreciate the subtle nuances of the various playing styles and really listen, it can be a really rewarding experience.

Bjørset has studied at the Norwegian State Academy of Music and drawn inspiration from some of the best-known and most outstanding fiddlers in the country, such as Håkon Høgemo. By working with and specializing in historical archive recordings she has developed a distinctive repertoire based on a minimalistic melodic material. March 2009 saw the release of Bjørset's latest solo outing, 'Slåttar' - a tasteful, melodious collection of little-known tunes and reinterpretations of familiar standards. The traditional tunes are rooted in the fjord and mountain regions of Sunnfjord, Sogn and Valdres; areas where dance tunes and airs go hand in hand. Many of the tunes are based on simple melodic structures, which Bjørset attacks with her own brand of ferocious Hardanger fiddle minimalism. It is with a realistic approach that Bjørset readies herself for the upcoming Showcase Scotland gig:
- Over the years, I've done quite a lot of showcases at festivals and music industry trade fairs such as this. I know that things don't happen overnight, but I hope that being a solo performer, playing an instrument that no one else plays might give me a slight advantage. Interest in Scandinavian folk music has blossomed, and with Norwegian music being such a distinct style, it feels as we're at the right place at the right time.

A view shared by many is that the Norwegian folk music scene has undergone a transformation in later years; performers, ensembles and the folk music industry appear more professional and with a clear international focus. Bjørset agrees:
- As a response to increased interest, the domestic scene has become much more professional over the last few years. We now have a couple of hard working artists that are really pushing it, and they're backed by new companies such as (artist managements, Ed. note) Solid! and Cumulus Nordic. The scene is really diverse; the spectrum includes crossover successes such as Valkyrien Allstars as well as solo Hardanger fiddle players as myself. It is vital that the scene now manages to produce some internationally successful door openers – it will act as a trigger for a whole new wave of strong players.
The article is produced by Music Information Centre Norway