Jadedness is hardly a problem among the passionate and rooted souls that chose traditional music for a living. But even so, Unni Boksasp is likely to be a little more keyed up than the rest of the lot at Celtic Connections, a debutant on the international scene as she is. -I was already an adult when I started with traditional music, says Unni Boksasp, one of the newest bright voices on the Norwegian traditional circuit. -My interest in the field grew forth as a combination of a love of local history and ethnography and some seminal record purchases: I bought some CDs with traditional music that I fell for instantly. And so in due time I enrolled at the folk music program at Rauland in Telemark. It was there that I discovered the recordings with Magnhild Havdal Almhjell. It was a very special experience to realize that she was actually from my home place! I had no idea that there was such and important voice of traditional music hailing from the same little corner of the country as me.

Unni Boksasp's debut CD came in 2007, entitled Songar frå Havdal. The record is dedicated to Magnhild Havdal Almhjell in its entirety, meaning that the songs are all songs «after» her; based on the ethnographic recordings that were made with the singer many years ago. -I never got the chance to hear her sing live, says Unni, as she suffered a stroke before I was even born. But the local connection made my first record project very clear to me: I wanted to record her songs and make a record that also mirrored the things I had learned underway, especially in Stockholm. Between her studies at Rauland and the debut record Unni first spent a couple of years working as a pedagogue in Norway and then moved to Stockholm to attend the Royal Music academy there: a result of her decision to become a full time musician.
-I was already well acquainted with the Norwegian tradition and the educational methods used in Norway, so I wanted the difference in perspective that studies in Stockholm entail. They have a very different approach to working with traditional expressions. It is more liberal, I guess you can say, and more focused on arrangements. They have developed a special method for arranging traditional music, something we lack in Norway.

Her insight in arrangements has been a very important tool for Unni in creating her own unique interpretation of the traditional sources she draws on. More than ever on the new upcoming record she is currently working on. -Keramello, as it will be called, is more arranged and broader than my debut, which was an oddity in many ways, albeit consciously so. Now the format is a little more fixed, with bass and drums throughout. And the new record is definitely more light- hearted –even party-like– which is a bit of an achievement I think, bearing in mind that most of the repertoire that I draw on is very melancholy in nature. Apart from the format and arrangements, the major difference is that the new record draws on many different sourc¬es. -A big part of being a traditional musician is learning from sources first hand. It is simply all-important to learn by ear instead of through written material. For that reason I have spent a lot of time studying recordings and also making recordings with old people. Especially in my district, where there are very few still active old singers and musicians, it is decisive to travel around to meet them and record their music.

However, Keramello, which takes it's name from an old goat herder's calling-tune, also features songs written by Unni herself, including lyrics. -The interplay between traditional songs and sources, and new arrangements and compositions is at the heart of folk music, says Unni. We find and create music as we go along, and often it is a matter of coincidence what ends up on a record and how long it takes to make a record. In my position, where I do everything myself –including the business part of it all– there is a certain limit to how much time you can spend on every project. Being a musician is a lot of work, especially as a singer since it is mostly a question of your own projects and ideas rather than filling a role in a band.

Unni Boksasp travels to Showcase Scotland with the band from her debut record. -It is my first major international appearance, says Unni, so naturally I am very exited about it. For a newcomer on the international scene a convention like Celtic Connection is really the optimal launch pad. Keramello will be recorded in February. By the time of its release, Boksasp will probably have extended the market for her music considerably. –For things are happening in quick succession now; it is breakthrough time for another unique voice of Norwegian traditional music.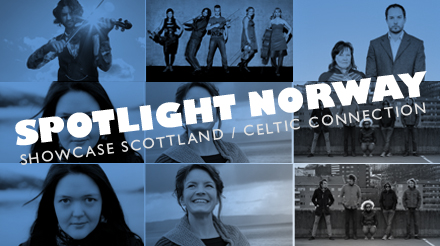 The article is produced by Music Information Centre Norway