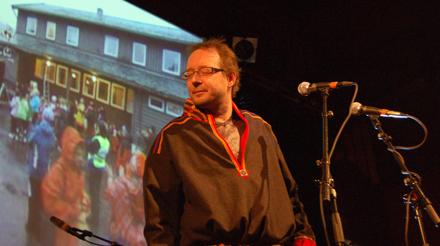 Johan Sara jr|photo:Tomas Lauvland Pettersen
In the process, WOMEX has become the premier professional event in the international world music calendar. There were over 2700 delegates and 650 exhibiting companies from 92 countries in 280 Trade Fair Stand Units. And WOMEX presented 57 acts including 340 artists on 6 stages and 23 Conference Sessions, having inaugurated a new structure
2009 also brought a new city and a new partnership. Many of the Copenhagen's key cultural players banded together to make the invitation, and then created WorldMusicFair Copenhagen (WMF CPH) to become the local production partner. First and foremost Roskilde Festival, Copenhagen Jazz Festival and Wonderful Copenhagen. The other principal members comprise the Danish Center for Culture and Development (CKU/DCCD), Global Copenhagen and World Music Denmark in cooperation with Welcome Meeting Management.
Openining concert "The Great Nordic Night"
In honour of the new city location, WOMEX hosted a special Opening and added a new stage this year. An all-star Nordic band took to the stage with artists from Denmark, Norway, Sweden, Finland, Iceland, the Faroe Islands, Greenland and Samiland. Danish fiddler Harald Haugaard created and directed this once-in-a-lifetime concert experience. The stage, called the Nordic Club, highlighted talent from all the Nordic countries and edged our Showcase numbers up to almost 60. These concerts were held in DR-Danish Broadcasting's new studios and concert halls, offering some of the best conditions ever at a WOMEX.
The Great Nordic Night told the tale of the life, history and nature of the Nordic people through music, song and light, and the concert introduced the multiplicity, the shades, not to mention the force of ancient Nordic music in a modern tone. The bedrock on stage was The Great Nordic Band, counting some of the very best musicians on the current traditional and contemporary Nordic music scene, including Roger Tallroth (guitar), Ragnhild Furebotten (violin) and Tapani Varis (bass). The band backed a number of outstanding vocal and instrumental soloists such as Norwegian Hardanger fiddle player Annbjørg Lien, Faroese singer Eivø, and the Swedish multi-instrumentalist Ale Möller. The concert was uniquely created and produced for the WOMEX 09 Opening in Copenhagen by Danish fiddle player Harald Haugaard in cooperation with the Danish Folk Council.
Danish daily news Børsen (* * * * * out of six stars) wrote:
"The Great Nordic Union ... It was beautiful, atmospheric and impressively well played ... [Harald Haugaard] blended the planned with the spontaneous and created a common Nordic culture canon."
Nordic Club
Due to WOMEX' Nordic location the next three years, a new showcase scene dedicated to Nordic folk and roots music is established. The scene is a supplement to the other showcase scenes, and was similarly placed in the Concert Hall of national Danish Broadcasting in Copenhagen. Called the Nordic Club, the stage featured artists from Iceland, Denmark, Norway, Sweden and Finland – running all three Showcase nights. Yes, that means a full five night time stages this year, and an extra nine shows.
Unni Løvlid and Johan Sara jr group represented Norway at the Nordic Club both performing in front of an enthusiastic audience.
Artists at the Nordic Club:
- Bazar Bla (Sweden) - Johan Sara Jr. Group (Norway) - Lepistö&Lehti (Finland) - Mógil (Iceland/Belgium) - Nordic (Nordic) - Unni Lovlid (Norway) - Valravn (Denmark) - Wimme (Finland) - Zar (Denmark)