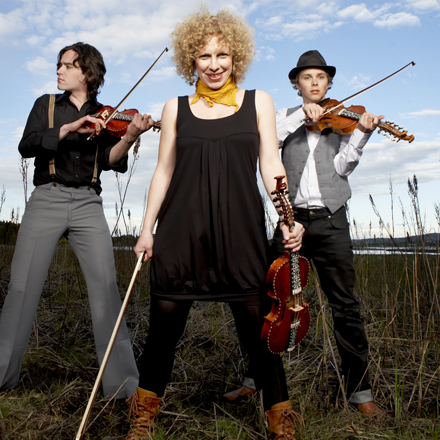 Valkyrien Allstars|Photo: Geir Dokken Unspecified
Their music has no border or age – only the simplicity of an open mind. Their musical style can be described as fiddling with 'attitude' over improvisational riffs, connected with an almost explosive and unpredictable stage presence that is crowned by Tuva Syvertsen's powerful voice. Where traditional Norwegian folk music would emphasis singing reminiscent of a crystalline mountain stream, Syvertsen's voice is distinctly bluesy and soulful.

But Valkyrien Allatars is first and foremost a fiddle trio, consisting of three Norwegian youths in their early twenties, all playing the Hardanger Fiddle. Their music is based on traditional Norwegian tunes, but the group has created their own personal expression that gives the music a more modern and international sound. In this way they succeed in bringing folk-music further ahead and can be reckoned as forward-thinkers and door-openers in their field.

Valkyrien Allstars is definitely a band that comes into its own live on stage. They have become among Norwegian folk music's hottest properties and have taken Norway by storm. Hungry for more they have entered the international scene soon doing tours and concert in Japan and Scotland.
Valkyrien Allstars was awarded the first GRAPPA record price for newcomers in 2007 resulting in the critically acclaimed self-titled album that recently sold to gold on the domestic market. Their second album "To måner" was released 31 of August.

http://www.valkyrienallstars.com/
http://www.myspace.com/valkyrienallstars
Label: www.grappa.no