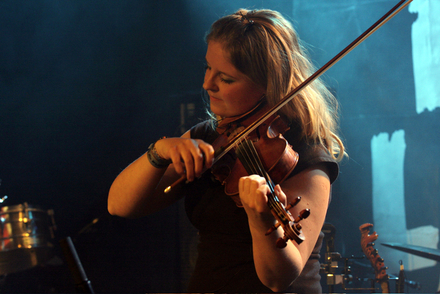 Jorun Marie Kvernberg - Photo: Knut Utler
-The most appealing thing about Norwegian traditional music is the lack of complexity in the way that artist perform, and the taste of their country in their music; dreamy, reflective, joyful.

These are the words of Roger Bouwens, the leader of the Belgian concert network Toernee Mondial. In collaboration with the Norwegian Traditional Music Agency, Bowens aims to arrange an annual tour under the title "Norwegian tapas".
The idea of setting up a Norwegian folk music tour in Belgium developed next to Bouwens growing interest in Norwegian music.
- During my second visit to Folkelarm last year I was looking for a possibility to present several Norwegian artists together to the Belgian public. With Norwegian Tapas I can merge different artists in one project and make the result more than the sum of the ingredients. It makes the concert more attractive to the public by combining instrumental artists with vocal artists/groups which is more familiar to our audience.
Through the Norwegian Tapas concept young Norwegian artists get a hold of the opportunity to perform outside Norway, and to convey Norwegian folk music to an audience in Belgium, an audience well known to music from all over the world, but hardly ever exposed to music from Scandinavia.
- The Belgian public has a very open mind and is willing to get acquainted with music from all over the world. They will be surprised by the high quality of the Norwegian performers and the explicit joy they display while playing their music, Bouwens states.
The selection of artists was made from the artists performing at Folkelarm in 2008, meaning that Bouwens saw them all performing live.
-Together they cover a wide range of traditional Norwegian music. The quality of the three groups is assured. And also, as a concert, it means that we can start with some reflective music and have an accessible and compelling end.
Read about the Norwegian Tapas musicians