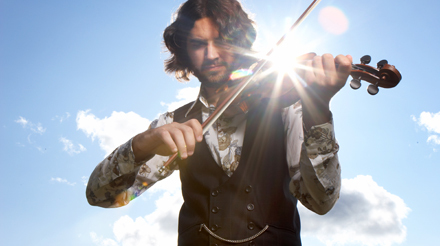 Tidligere vinner av Grappas debutantpris, Gjermund Larsen. Foto | Geir Dokken
Jorun Marie Kvernberg, Gjermund Larsen Trio and Bruvoll/Hallvorsen band has been selected as the first Norwegian Tapas artists and will tour Belgium in November 2009.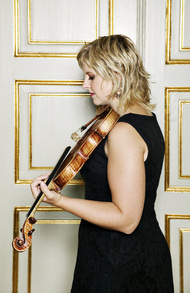 Photo: Yina Chan
Jorun Marie Kvernberg
An award winning performer Jorun Marie Kvernberg is one of just a few musicians who specialize in the traditional fiddle music of Møre & Romsdal. Kvernberg finished her studies at the Norwegian State Academy of Music 2004 with fiddle and Hardanger fiddle as her main instruments. The traditional fiddle music from Møre & Romsdal is her hot stuff as a soloist. Listen to sober, carmine red and resonant springar from grandfather Peter L. Rypdal, fresh and merry dancing tunes from the isles outside Romsdal. At last, but not the least, her waltzes from Nordmøre are a joy not untinged with sadness. Kvernberg is also a singer, developing a unique style combining two fiddles and song. Her powerful fiddle style and personality on stage is widely known. Thus, she makes the traditional music from her home county vivid and of current interest.
Photo: Geir Dokken
Gjermund Larsen Trio
Gjermund Larsen is a fiddler that has positioned himself in the intersection between tradition and new inventions and enjoys a position as one of the most respected performers and composers on the contemporary Norwegian folk music scene. The Norwegian State Academy educated fiddler and composer is a member of ensembles Majorstuen, Frigg, Brødrene Larsen, Ragnhild Furebotten trio and Christian Wallumrød ensemble. Larsen's proper debut as a composer came in the form of the work 'Brytningstid' which was commissioned by the Telemark Festival in 2006. The majority of the work is devoted to new, contemporary and original folk music which draws inspiration from the local dance music traditions of the Verdal area in the Trøndelag region. Double bassist Sondre Meisfjord and pianist/organist Andreas Utnem were featured at the premiere of 'Brytningstid' and the three have continued the fruitful collaboration to date. The pieces featured in 'Brytningstid' still constitute a base of the trio's repertoire, a repertoire that has continued to grow in magnitude and diversity during the last two years and ended up in their debut record "Arrivals". For this record Gjermund Larsen Trio was awarded the Norwegian Grammy Award 2008. The three band members represent a wide range of genres ranging from classical and contemporary to jazz and pop as well as traditional folk music – a diverse background that results in a highly aesthetic and rewarding sonic landscape.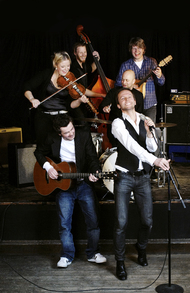 Photo: Rikskonsertene
Bruvoll/Halvorsen Band
The striking partnership of guitarist Tore Bruvoll and vocalist Jon Anders Halvorsen has resulted in one of the strongest outings on the Norwegian folk music scene, the critically acclaimed album 'Trillar for Two'. Vocalist Jon Anders Halvorsen, who hails from Norway's Telemark region, and guitarist Tore Buvoll from Northern Norway's cultural capital Tromsø, first struck a musical partnership eight years ago – a partnership that has resulted in two applauded releases; 2004's 'Nattsang' (Nightsong) and 'Trillar for To' (Trills for Two). The duo has also toured frequently at home and abroad, particularly in Germany, where the two have a small but loyal following. The last year has seen the duo moving into new musical territories, eschewing the subdued and sombre medieval ballads found on their first album for a more livelier and upbeat expression backed by a six-piece band. Bruvoll/Halvorsen's new approach to songwriting has paid off, 'Trillar for To' has garnered a string of very positive reviews (including a couple of six-out-six stars) in the domestic press as well as healthy sales. Last year's achievements were crowned with a prestigious Norwegian Folk Music Award for Innovation.