Majorstuen
This Norwegian five piece celebrates it's first decade by releasing a live greatest hits collection, showcasing their mastery as both traditional fiddlers and ground breaking innovators. Here you may listen to some samples from this fresh release.
---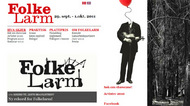 "Discover a world of music"
In the latest edition of SongLines, you'll find a brand new compilation CD, consisting of some of the brightest stars to appear on the Folkelarm stage. "Traditional music from Norway" features twenty Norwegian artists from the Nordic Showcase Festival in Oslo, providing a musical overview of what's going on in Norway today.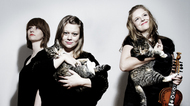 Traditional Music from Norway
The Trio of Åshild Vetrhus (vocals) Jorun Marie Kvernberg (fiddle, vocals) and Irene Tillung (accordion, vocals) have dug out some of the beautiful song treasures of Rogaland County for the record Moder Norge, released earlier this year on the ta:lik label.
---